Coleman: 'I put myself back in the conversation'
September 3, 2018
After his powerful 9.79 victory in the IAAF Diamond League 100m final in Brussels on Friday night, Christian Coleman ended his 2018 outdoor season roughly how he started it: as the most talked about sprinter in the world. It was that interim period, however, the time between his record-breaking indoor season and the moment he crossed the Brussels finish line arms held high, that didn't go as smoothly as he would have wanted.
During the past indoor season, Coleman admirably rode the momentum that took him to world silver in 2017, lowering the world indoor record in the 60m to 6.34 in February and taking the world indoor title over the distance in March. Then the injuries, more nagging than serious, began.
A cramp in his right hamstring, an ailment he could sometimes train through in the past, was troubling enough to force him to pull out of his planned 2018 outdoor debut in Shanghai. It didn't go away, but he took to the blocks in Eugene anyway, finishing second in a windy 9.84 behind Ronnie Baker. Five days later, after running 10.06 in Rome and finishing a distant fourth –in a race again won by Baker– he decided to take a break to recuperate. That also meant, to a large extent, that he had to start his season over.
STARTING OVER, MID-SEASON
To improve, he said, "The whole season just has to run smoothly, from off season training to speed conditioning to speed training to race modeling. Everything just has to flow. That's how you get PRs.
"And so just having a break in my season where I was injured, I wasn't really able to train (properly) and (was) still trying to go out there and compete. That really kind of set me back, and set me back in the flow of things. I had to finally take some time off and get back healthy and start my whole process over with base training and trying to get that fitness back."
He came back in mid-July with a narrow 9.98 win in Rabat over Baker but still wasn't one hundred percent, he said, and was forced back to the sidelines.
"I probably came back sooner than I should have and over-compensated for my injury, and tweaked a little something."
He returned five weeks later, fully rejuvenated if not quite race-sharp, taking another narrow victory, this time over Reece Prescod in Birmingham with both clocking 9.94.
"I came back really confident in my fitness in Birmingham – I felt a little something in my hamstring but after the race I felt really good." That boosted his confidence just as Baker was making his bid to take on the role as the season's top 100m sprinter. That the focus had shifted towards his rival didn't bother him, Coleman said. Instead, it pushed him.
"I just used that as fuel for the fire, to go out there and put myself back on top of the leader board and back into the conversation."
THE NEW 'BOSS'
Brussels, he said, '"Was the first time I was able to come into a race fully confident in my health and fitness. And I think it showed."
By any measure, it did. Coleman capped an up-and-down season with a world lead that eclipsed his 14-month old PB by 0.03 and tied him with Maurice Greene as the seventh fastest man of all-time.
Asked if he was now the new 100m 'boss', Coleman laughed at the characterization, but didn't entirely shrug it off.
"I guess so," he said, smiling. "I've got the world lead, I've got the Diamond League Trophy that everybody was shooting for this year. So I guess I'm at the top of the leader board right now. But there's so many guys with talent, a lot of guys shooting for the top spot, so I have to continue to stay healthy and continue to stay on my A game and keep getting better to try to stay on top."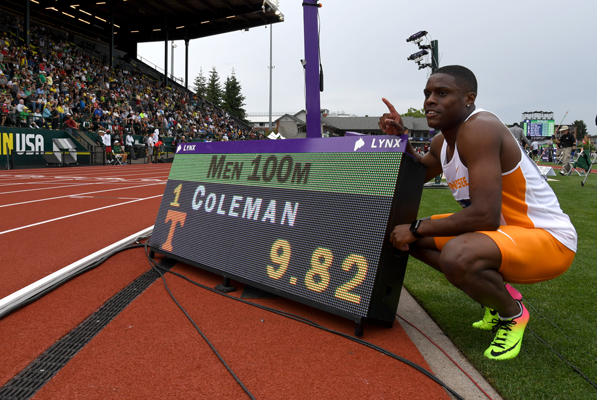 NO LIMITS
How fast can he ultimately run? That's a question he doesn't want to answer too specifically.
"I think I can go much faster, I just gotta continue to work hard," he said.
"I knew based on my times in practice earlier in the season that I was ready to run fast and even faster than (9.79). Then, based on my times in practice I knew that I could do something special if I'd come out here and compete.
"But there are a lot of things that I can work on, that I can get better at so I don't like to put a time limit on myself. I don't want to say I want to run a specific time, I just want to compete against myself every day and get better. And so I think with that type of mindset, like I've always had, the sky's the limit. I'm excited about that."
Given the setbacks he had to overcome in recent months, Coleman said his victory in Brussels was more important to him than his world indoor title run last March.
"Indoors, I was just on a hot streak, even in my first race. I just had a whole lot of confidence in myself mentally, physically, and I think that showed. But then outdoors: having to overcome obstacles, having to not be a part of that conversation about who's going to win, and not having full confidence going into races because of your health. 
"A lot of people were telling me, 'You've proven yourself, just shut it down and get ready for next year, just wrap it up'. But that's just never been in my nature. This is what I love to do. I love to compete. I knew that I just had to keep working, keep learning, stay focused and I knew it would all come together. And it did. This race felt better than any other accomplishment."
RUNNING PRESSURE-FREE
Part of his winning combination is a laidback approach to whatever he's doing, not allowing any pressure to seep through, letting a "chill" persona take root.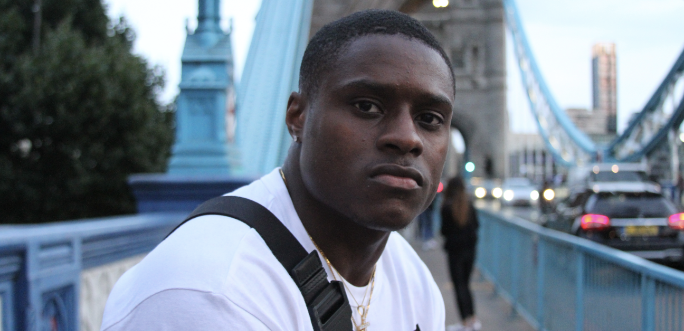 "This is just fun to me," he said. "I love track and field and I love competing. I love moments like this where all you have to do is make it here and everyone has a shot. Everybody has the same opportunity. I know that when I'm on my A game I've got full confidence in myself that I'll be hard to beat. I love doing this. So when you think about it like that, there's no pressure. It's fun."
Article courtesy of iaaf.org
Bob Ramsak